An Industry First: Logitech Solutions Now Certified for Microsoft Teams Rooms on Windows and Android
Published 22/03/2022 09:31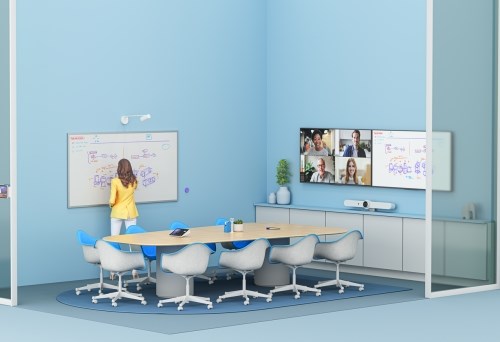 Logitech is pleased to announce that Logitech Rally Bar, Rally Bar Mini, and Tap are now certified for Microsoft Teams Rooms on Windows and Android, an industry first. These products are available globally and ready to ship.

Why is this important? If you're a Microsoft shop and you deploy Microsoft Teams Rooms in your meeting rooms, you have the flexibility with Logitech video conferencing equipment to run Teams Rooms on a dedicated compute device or an Android appliance. This gives you options as you continue to deploy Teams Rooms across your meeting rooms.
Flexible Deployment Options for a Changing World
In a world where the only constant is change, it's wise to be prepared. By certifying Rally Bar, Rally Bar Mini, Tap, and Tap IP for Microsoft Teams Rooms on Windows and Microsoft Teams Rooms on Android, we're offering greater choice and flexibility for your video conferencing solutions. You can now select a deployment model that best matches the operations and management practices in your organization.

Rally Bar Mini and Rally Bar include built-in support for Teams on Android, so with those video bars you don't need an additional computer in the room to run your meetings. If you're using Rally Plus in a larger room or Rally or MeetUp in midsize or smaller rooms, you can add Logitech RoomMate to the room, run Teams Rooms on Android, and transition to the appliance model without replacing your existing deployment.

The complete portfolio can also be deployed with the traditional Teams Rooms on Windows, with an additional meeting room compute from Dell, HP, Intel, or Lenovo.
An Integrated Family of Products for Teams Rooms
Our meeting room solutions are pre-configured for meeting rooms of virtually any size or layout. Explore your options for a seamless meeting experience with Microsoft Teams Rooms.


Rally Bar Mini: Perfect for small rooms and huddle spaces, with premium audio and video quality and AI Viewfinder, a second built-in camera for auto-framing and capturing insights on room occupancy.


Rally Bar: Ideal for midsize rooms, with cinema-quality video, outstanding color, and exceptional optical accuracy; also includes AI Viewfinder and AI-driven RightSight technology.


The Rally Plus system: Optimal for large rooms, featuring the ultra HD Rally Camera, two speakers, and two mic pods, with the ability to expand up to seven mic pods to accommodate larger groups.


Logitech Tap: USB-connected touch controller for meeting rooms, delivering one-touch join and easy content-sharing.


Logitech Tap IP: Network-connected touch controller with a single Power over Ethernet connection for added simplicity.


Logitech RoomMate: Purpose-built, Android-based computing appliance for video conferencing.
Better Meetings Together
The sophistication of our video and AI technology is one reason organizations equip their meeting rooms with Logitech devices. Equally appealing, especially to organizations that standardize on Microsoft, is the ability to deploy a complete meeting room ecosystem with components that work together seamlessly.

Products like Logitech Scribe, Tap Scheduler, and Tap IP create a consistent and intuitive meeting experience for all Microsoft Teams participants. Wherever employees are located, Logitech and Microsoft allow you to easily and affordably connect everyone as if they're in the same room.